test
Insight Firearms is proud to announce that we will be hosting Lt. Col. Dave Grossman Bullet Proof Mind Seminar. 
Grossman is one of the world's leading experts on the causes of violent crime. He is the author of the critically acclaimed book, Stop Teaching Our Kids to Kill, has testified before U.S. Senate and U.S. Congressional Committees, and has written numerous encyclopedia entries on the subject of violence and aggression. Col. Grossman served as a key trainer of school and mental health professionals in the aftermath of the Jonesboro, Ark., school shooting; he was a consultant in the trial of the Paducah, Kentucky school shooting; and he trained emergency, police and civic groups in the aftermath of the Springfield, Oregon, and Littleton, Colorado school shootings.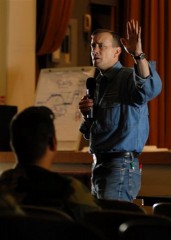 He has presented to over 100 different schools and universities worldwide, and has trained educators and law enforcement professionals, in the field of school safety, at the state and regional level, in all 50 states and over a dozen foreign nations.
This will be an amazing opportunity to listen and learn from an internationally acclaimed authority on school safety and youth violence. The seminar will help you better understand why some children act out in violence against others. It will also help you to identify various risk factors in youth that could potentially lead to acts of violence. Additionally, Lt. Col. Dave Grossman will provide you with the mental tools necessary to be prepared for acts of violence in the school.
Seating is limited. Without exception all of Lieutenant Colonel Grossman's events sell out quickly. Reserve your seat today to insure your chance to see one of America's most popular speakers.
Date:
June 23, from 8 a.m. to 4 p.m.
Location:
Rhodes State College, Science Building Lecture Room 100,
4240 Campus Drive, Lima, Ohio 45804
Cost:

$99
If your agency, business, or school requires an invoice, then email us at ccwtraining@wcoil.com with a list of names of the attendees. This will ensure that your participants are guaranteed a seat and we will send you an invoice. Please include a purchase order number in the email if you require one. If you are self-paying, then please use the "Buy Now" button below.
INSIGHT'S Carry of Concealed Weapons Course
is designed as the first step in personal safety and protection. In this course you will become knowledgeable about; Ohio Laws for Concealed Carry, precision shooting accuracy and most importantly you will gain the confidence and peace of mind needed for self protection.
State of the Art Teaching Methodology
INSIGHT utilizes a "Multi-Media Technology" format in our classroom presentation, providing our students with inclusive information covering all aspects relating to the Carry of Concealed Weapons. This audio/visual format is instrumental in holding our students attention and focus, while assisting them to easily comprehend and retain the information provided. It actually programs the educational experience to the subconscious.
Our "Team Teaching" approach is extremely effective, providing our students with twice the INSIGHT from different points of view, and assures personal time for each student in order to capitalize on personal strengths and improve weaknesses.
Please feel to visit our testimonials page to read what our students have to say about INSIGHT'S program.
12 Hour CCW/What Does it Entail?
Safe Gun Handling and Laws
Proper Storage for Handguns in the Home
Firearms, Ammunition, and Holster selection
Legal issues relating to the use of deadly force
Concealed Carry Laws
Marksmanship
Weapon Care and Maintenance
Forbidden Carry Laws
Civil Liability
Written Tests and Shooting Quailifications
Special Requirements
Handgun (Handguns will be available for rent at the class)
Eye and Ear Protection
Ball Cap
Ammunition – 100 rounds
Please call if you don't have a firearm, and we can assist you with making a selection that will maximize your comfort and proficiency
Tuition:
Next Class:    
June 21, from 8am to 8pm at  Lima Sabres 5090 Hanthorn Road Lima, Ohio 45806
Enrollment:
Please click on the above schedule button, pick the classes that you would like to attend, 
click on the registration button to submit an easy online registration form
Payment Methods
Cash & Check accepted before and the day of class
Mastercard & Visa accepted with on-line registration only
Enroll Today! 100% Money Back Guarantee
If you're not completely satisfied, the fee for the course will be completely refunded. You have absolutely nothing to lose!